<![if !supportEmptyParas]> <![endif]>
<![if !supportEmptyParas]> <![endif]>
Birds of the Czech Republic
is the first-ever book on avifauna of the country written in English.
<![if !vml]>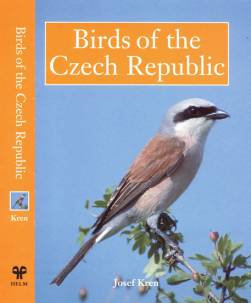 <![endif]>
This is a comprehensive review of the country's avifauna, and brings together information on the 394 species recorded since 1800. The bulk of the book comprises thorough species accounts describing general biology, breeding and winter densities, status, population trends, distribution, and timing of occurrence. A detailed distribution map showing status in all 76 counties accompanies each account. The book also contains a section on the best birdwatching sites, with access maps and list of breeding and migrating species.
336 pages, 29 line drawings, 44 b/w photographs, over 420 maps, hardback. Christopher Helm 2000.
One of the most welcome and remarkable aspects of this book is the high degree of detail as to location information that is available for each species, either in terms of their associated range maps or described in narrative form.
From Foreword by Paul A. Johnsgard, Foundation Professor
<![if !supportEmptyParas]> <![endif]>
<![if !supportEmptyParas]> <![endif]>
The book will undoubtedly be popular with the increasing number of birdwatchers visiting the former Czechoslovakia. Nobody interested in the rich bird life of central Europe should be without this title.
Ibis, July 2001
<![if !vml]>
<![endif]>
NHBS CATALOGUE APRIL-SEPTEMBER 2001
<![if !supportEmptyParas]> <![endif]>
<![if !supportEmptyParas]> <![endif]>
<![if !supportEmptyParas]> <![endif]>
<![if !supportEmptyParas]> <![endif]>